When is the Best Time to Visit Israel?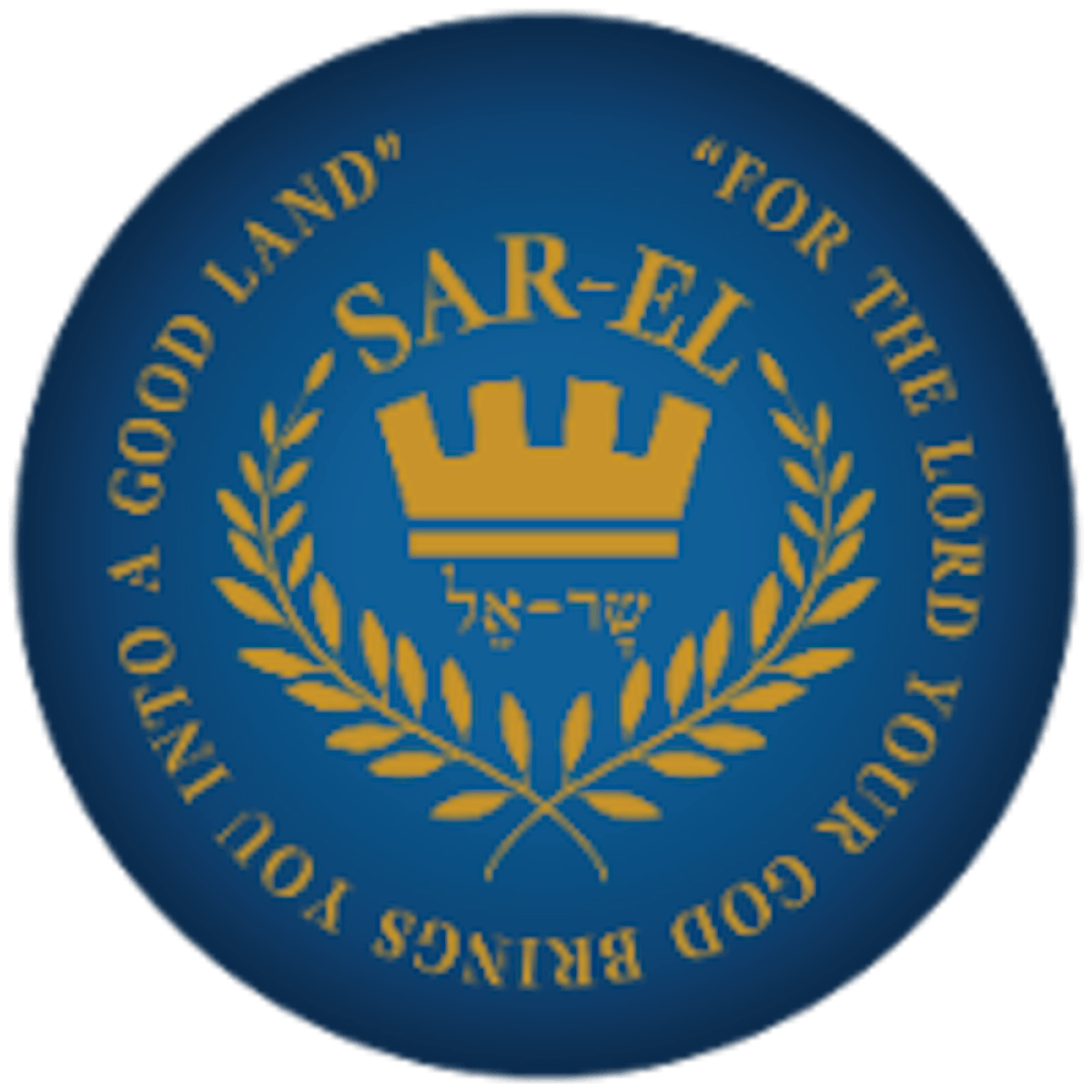 Sar-El Tours & Conferences
The State of Israel boasts a plethora of exciting attractions to explore. Whether you're a devout Christian on a pilgrimage to the Holy Land or an intrepid outdoorsman seeking sunshine and hikes, you're all but guaranteed to have an amazing time.   
But before you go ahead and book the holiday of your dreams, you'll need to ask yourself one simple question: "When is the best time to go to Israel?"
And the answer, of course, depends entirely on what you want to see and do. While some areas of the country are idyllic in summer, other regions become unbearably hot. And while certain Israeli festivals are a delight for some travelers, others will find them a hindrance and a bore. 
So to help you wrap your head around the variable Israeli climate and complex celebratory calendar, we've put together this in-depth guide. 
Read on to discover the best time to visit Israel for you. 
The Best Time to Travel to Israel
We've put together this summary for those who just want to know the best time to visit Israel without wading through the finer details 
On the whole, the best time to visit Israel is spring (March to May) and fall (September to November). During these two shoulder seasons, daytime temperatures are typically mild—not too hot nor too cold.
Better yet, airfares and hotel rates are lower than the peak summer months, so traveling during this period is a savvy way to snag a bargain.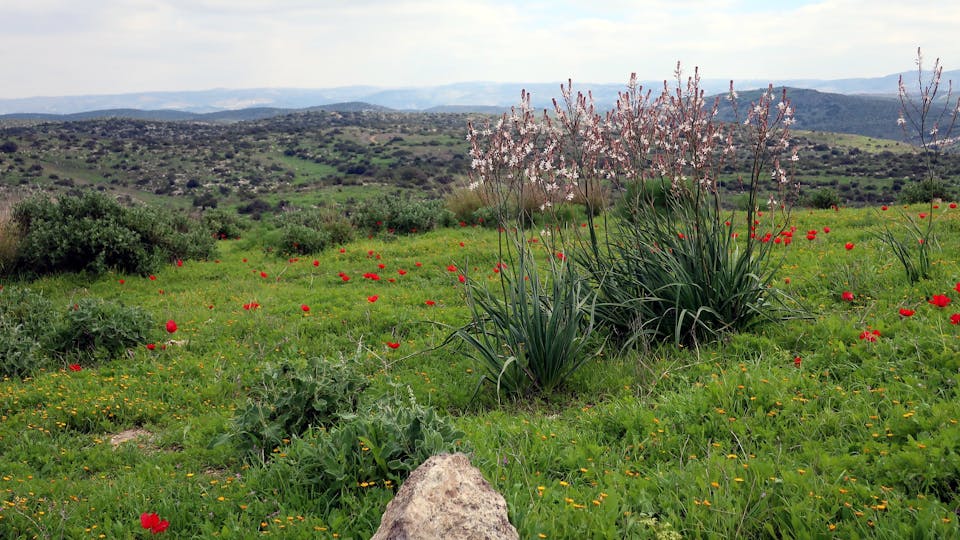 Choosing the Right Season for You
Israel is a land of four seasons. 
While summer temps can frequently top a scorching 40 C (100 F), winter can see the mercury plummet well below zero, at times even provoking a light dusting of snow in the highlands.  
And despite stretching a meager 490 km (290 miles) from end to end, the country consists of several variable climatic zones, each of which is best visited during certain times of the year.
Here's how the weather evolves over the year and the best time to visit specific parts of the country. 
Summer 
Israel is famous for its fiery summers—if you come between June and August, you'd better be ready to deal with the heat. 
Yet despite the scorching temps, summer is the most popular time to visit Israel overall. Scores of travelers descend on its cities to soak up the care-free summer vibe, while the cool waters of the Mediterranean and the Dead Sea pack out with sun-seekers enjoying a relaxing seaside escape. 
It's not ideal everywhere, though: Tel Aviv will have you feeling uncomfortably sticky during the peak summer months (July and August). Even though temperatures tend to hover around a bearable 30C (86F), the humidity is oppressive in summer along most of the Israeli coast. 
And as you'd expect, the Judean Desert, home to the fabulous Masada Fort, and the Negev Desert, famed for its incredible topography and biblical sites, are both excruciatingly hot in the summer. 
Jerusalem is a much more pleasant place to be in summer, and you won't have to deal with thick throngs of pilgrims packing out its holy sites. During the fall and spring, the climate in the Old City is wonderful, although it does get rather crowded. Winters are frigid and visitors are few and far between. 
The mountainous regions of northern Israel tend to be quite pleasant in summer, boasting balmy warm days and cool, comfortable nights. Down south, temperatures in the bustling seaside resort of Eilat can exceed 40C (100F), so you better be ready to make a beeline from your air-conditioned resort to the refreshing waters of the Red Sea. 
Regardless of where you go, it's unlikely you'll get soaked. The summertime sees virtually no rain at all throughout Israel. 
Fall 
As the summer heat starts to simmer down, the climate in Israel becomes much more agreeable. By late September, temperatures have dropped to a comfortable daytime level throughout much of the country. October is also an excellent time to visit, with agreeable weather across the country and minimal rain. 
Although the climate is lovely during the fall (especially September to October), Israel does welcome quite a few tourists during this time. October and November are typically the busiest months of the year, so don't expect any bargain hotel rooms or airfares. 
By the time November comes around, the highlands will start feeling a little nippy, and the coastal regions will begin to welcome the rains. 
From September to November, hot winds can arrive from Africa, prompting the mercury to spike and blowing in a fine layer of dust. But don't sweat it as these unpleasant conditions only tend to last a few days, rarely long enough to ruin a visit. 
Another downside to fall is the country is at its driest. The last substantial rainfall was in winter the year prior, and Israel's beautiful flowers have all wilted long ago. If hiking through lush landscapes is your primary reason to visit, then you'd best pick a different season.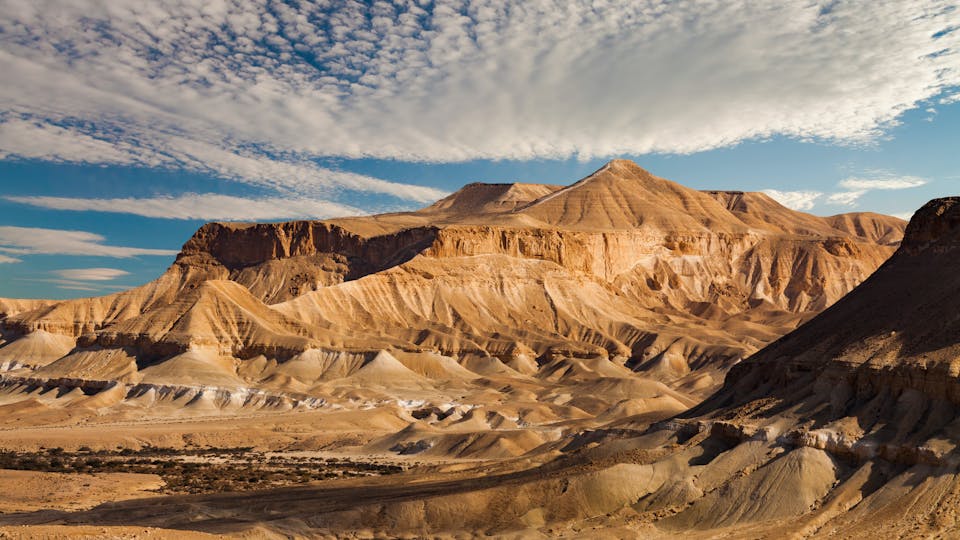 Winter
Spanning from December to February, winter brings low temperatures and lots of rain. The entire Mediterranean coastline, including Tel Aviv, receives heavy downpours this time of year, so don't go planning a beach vacation in the winter—it'll be too cold, anyway. 
Up in the highlands, the crisp high-altitude air sees the mercury plummet, with nighttime temperatures frequently dropping below freezing point. Jerusalem occasionally gets isolated snowfall, although the white stuff is far more common in the mountains of Galilee. 
If you're looking to escape the winter chill, head as far south as you can. It's still possible to swim in the Dead Sea, albeit a tad nippy. The seaside resort of Eilat will be your best bet, however, as it tends to be one of the warmest regions in the winter. 
Winter is a wonderful time to explore Israel's magnificent deserts, which are too hot to fully enjoy throughout much of the year. The Negev Desert and the Judean Desert are especially enticing during the cooler winter months. 
Believe it or not, snow sports are a popular pursuit during the winter in Israel. The fluffiest powder falls in the Golan Heights—the country's best (and only) ski resort can be found on the Israeli part of Mount Hermon. Around 300,000 skiers flock to the resort each winter, which resides a mere three hour's drive from Tel Aviv.  
Spring
Spring is a beautiful time to visit as large swathes of the country come alive at this time. 
Recent winter rains make the vegetation look lusciously green, while fields full of native flowers bloom in a kaleidoscopic display. Hiking during this time is superb; nature lovers can appreciate the full splendor of Israel's gushing rivers and verdant forests.  
March might still be a bit nippy, but come April and May, the country's climate becomes wonderfully temperate. 
Although spring does bring the occasional shower, rainfall is rarely persistent enough to ruin your travel plans. 
In the southern lowlands and at Israel's beautiful beaches, temperatures tend to top out at a balmy 29C (85F). And as you'll be there before the rush of the summer crowds, you'll enjoy cheaper airfares and hotel rates to boo.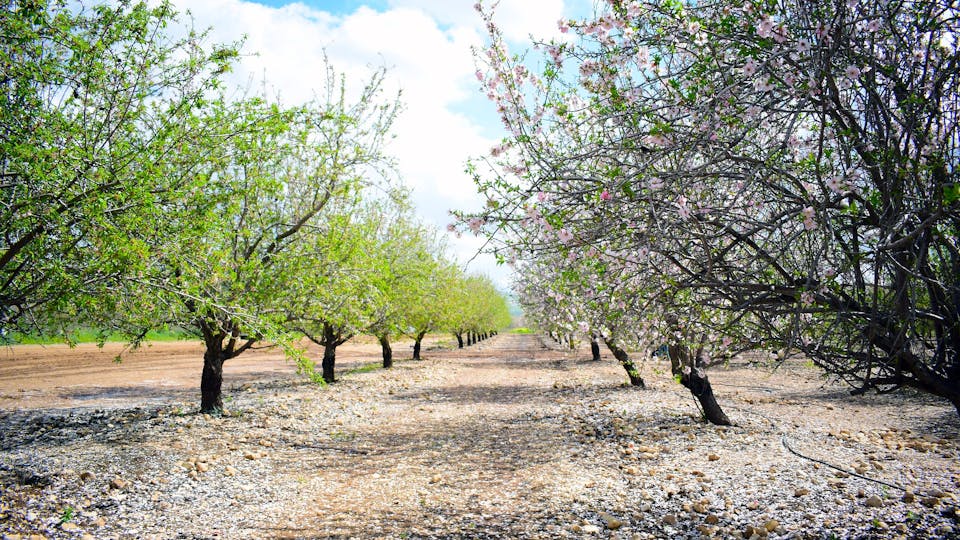 What to Wear In Israel
Despite its millennia-old history, Israel is a remarkably modern country that's obsessed with contemporary fashion. You won't look out of place wearing voguish western attire anywhere in Israel, and women are free to dress as they please. 
However, it's respectful to cover up when visiting sacred sites, regardless of the religion in question. Pack a change of clothes or bring a sarong to cover the shoulders and legs. 
Other than that, the ideal outfit to wear in Israel largely depends on the seasons. 
What to Wear During Summer in Israel
As summer is a scorcher throughout the country, you'll want to pack plenty of hot weather attire. Lightweight, long-sleeve shirts and trousers are best as they will protect you from the sun—make sure they're breathable enough to keep you cool.
Of course, a hat, sunglasses, and a generous supply of sunscreen are essential accessories in summer. 
What to Wear During Fall in Israel
During the fall, temperatures hover around the mid-20's C (high 70s in Fahrenheit) in the highlands and high 20's C (mid to low 80s in Fahrenheit) in the deserts and on the coast. Consequently, warm weather gear such as shorts, t-shirts, and sandals are all acceptable attire.
Just remember to bring a jumper or light coat for the evenings as temperatures in the fall frequently dip to 15 C (59 F). 
What to Wear During Winter in Israel
Winter gets pretty chilly in Israel, and the cold climate catches many a traveler unprepared. Expect maximum highs of around 11C (51F) in Jerusalem, although Tel Aviv is a bit warmer with an average max of 18C (64F). 
Nighttime temperatures often drop as low as 10C (50F) in either city and throughout much of the country. Pack plenty of cold-weather gear, including jumpers, jackets, long pants, and beanies—probably not what you were expecting on a trip to the Middle East. 
If you're thinking of trudging around the highlands, you'll need gloves, scarves, and thermal underwear to ward off the chill.
Note that winter brings heavy rainfall, so don't forget your favorite poncho or umbrella.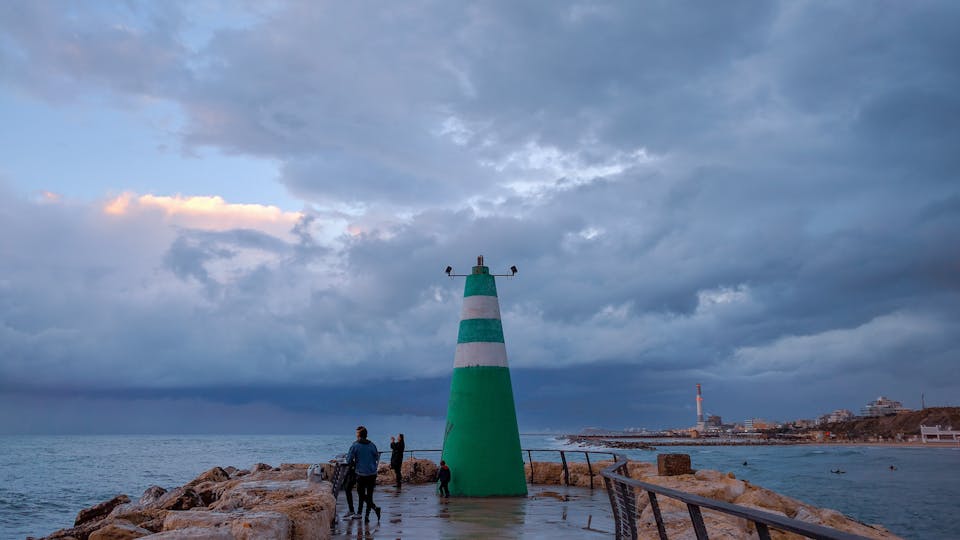 How Israeli Holidays Affect Travel In The Country
Israeli holidays are a fantastic time to visit for Jewish travelers, who revel in the chance to spend time with family and practice their time-old traditions together. 
For non-Jewish visitors, however, the most important Jewish events are a bit of a chore. There isn't much for a tourist to see—the celebrations are private, family-centric affairs—while transport and accommodation book out, and businesses shut up shop for days at a time.
Rosh Hashanah and Yom Kippur
These two holidays fall close together in either September or October each year. 
Rosh Hashanah is the Jewish New Year, a quiet and reflective family-orientated event that lasts for two days. Almost all businesses shut down to celebrate the passing of the New Year. 
Yom Kippur means the 'Day of Atonement' in English and is the holiest day on the Jewish calendar. Transportation of any kind (other than on foot) comes to a complete standstill—even the international airports close down. 
Sukkot
Also known as the Feast of Tabernacles, this week-long holiday takes place in the fall to celebrate the Jewish exodus from Egypt and the gathering of the harvest. Families share meals together on hut-like structures erected on the balcony of their apartment building or the backyard of  a suburban home. 
Passover
Passover is the most prized period to visit Israel for Jewish people, who flock to the Promised Land in their thousands from all corners of the globe. 
Businesses, transport, and tourist attractions tend to stay open during the seven-day festival, although the top sites become horrendously crowded, and hotel rates skyrocket. 
Gluten gluttons beware: you'll have to drop bread and pasta from your diet as grain-based products are forbidden. 
Christmas
For Christian travelers, Christmas is a wonderful time to visit Israel. The holiday is popular with international visitors who come to celebrate the birth of Our Saviour in the holy sites of Bethlehem, Nazareth, and Jerusalem. 
Because the locals don't celebrate Christmas, you won't have any issues with business closures and the like. 
When Is The Cheapest Time To Visit Israel?
The cheapest time to visit Israel is during the winter (December to February) when low temperatures and heavy rainfall scare most tourists away. Fall (March to May) and spring (September to November) also offer good deals, even though the weather is pretty much ideal.   
Regardless of what season you choose, you'll need to avoid the major Jewish holidays to snag a bargain basement deal. 
Finding the Perfect Time to Visit Israel
With its myriad of exciting attractions and varied climatic zones, it's possible to enjoy a trip to Israel at any time of the year. 
So when is the best time to visit Israel?
The ideal season for you depends on where you want to go and what you want to do. 
With over 25 years' experience offering unforgettable trips to Israel, Sar-El Tours has the necessary expertise to create the ideal itinerary for you—regardless of when you're available to travel. Fill out the form below, and one of our friendly local travel agents will be in touch with you soon.