The 9 Best Israeli Foods You Have To Try At Least Once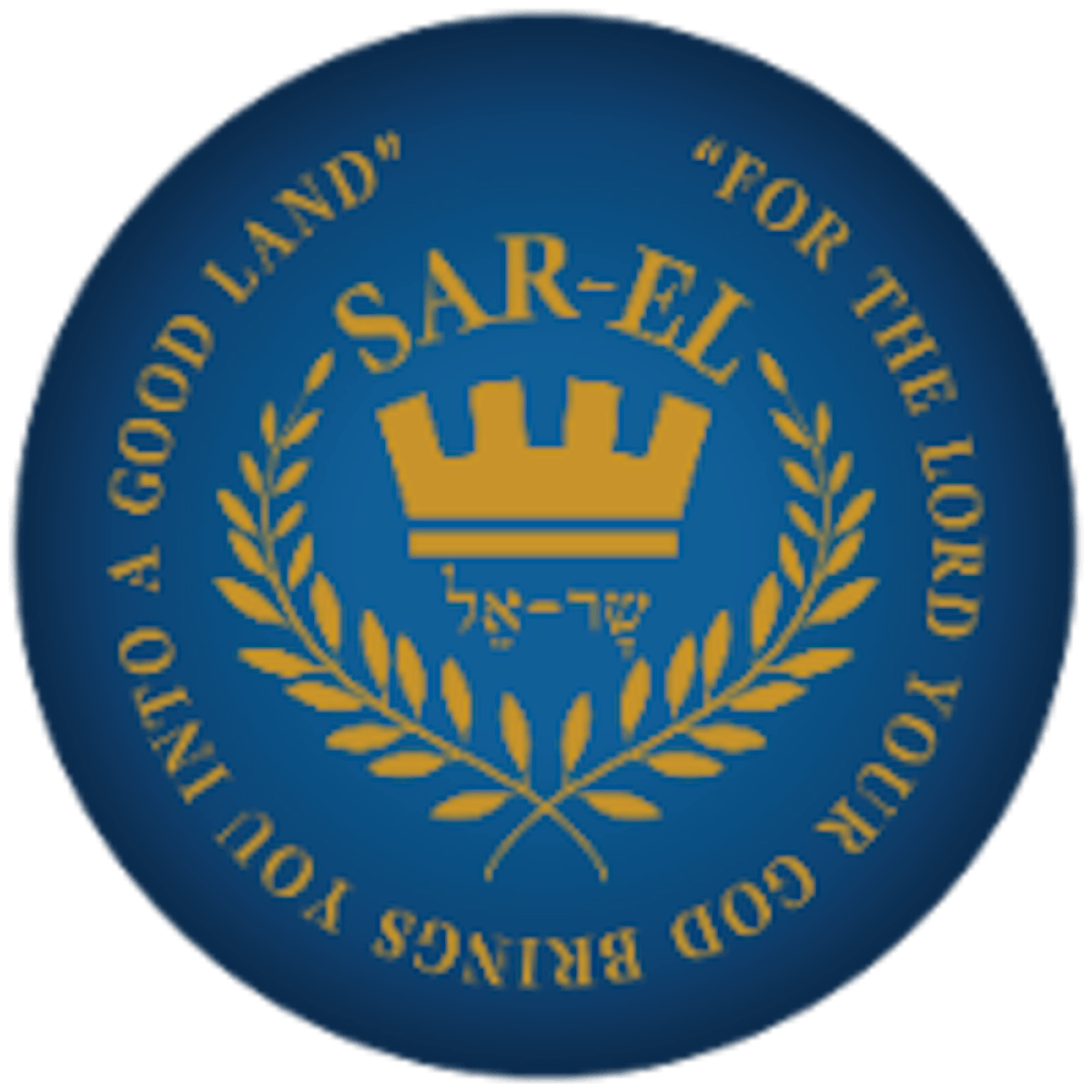 Israel is becoming increasingly popular for its sacred religious sites, jaw-dropping natural scenery, and fascinating ancient history. 
But there's another enticing reason to visit the tiny Middle Eastern state, one you rarely see mentioned in the travel brochures: its outstanding cuisine.
An eclectic mix of immigrants—think Eastern European, African, Mediterranean, and Arabic influences—has led to a unique culinary culture unlike any other on Earth. And each delectable dish pays homage to the melting pot of ethnicities that inhabit modern-day Israel. 
Today we're going to examine the tastiest Israeli delicacies, from hearty traditional breakfasts to casual kebab-like snacks and divine sugary desserts. So unbuckle your belt and prepare yourself for a mouth-watering exploration of Israeli food cuisine. 
1. Hummus
Hummus isn't just a cornerstone of Israeli gastronomy; it's a fundamental pillar of society. The ubiquitous chickpea-based topping is eaten feverishly in whopping quantities throughout the country, whether for breakfast, lunch, or dinner. 
The traditional way to scoff down hummus is by scooping it into a freshly baked piece of pita bread. Other options do exist, however, with tempting combinations such as hummus shakshuka and hummus musabcha becoming increasingly popular in recent years. 
Although other Middle Eastern countries also eat hummus, the Israeli version is unique (and more delicious). Tangy additions such as onion, paprika, pickles, lemon juice, olives, and boiled eggs make Israeli hummus distinct. 
The Best Hummus In Israel
In Tel Aviv, you can't go past Hummus Abu Hassan, a small traditional restaurant that attracts long lines of locals at lunchtime. Although the venue isn't much to look at, it serves up some of the most pleasing chickpea goodness in town. In Jerusalem, make a beeline for Lina, an Old City institution with only one item on the menu: hummus. Remember, if a joint cooks the same dish all day every day, you know you're onto a winner.  
The Best Hummus In Tel Aviv: Hummus Abu Hassan, Ha-Dolfin St 1, Tel Aviv-Yafo, +97236820387
The Best Hummus In Jerusalem: Lina, Q6HJ+M4 Jerusalem, +97226277230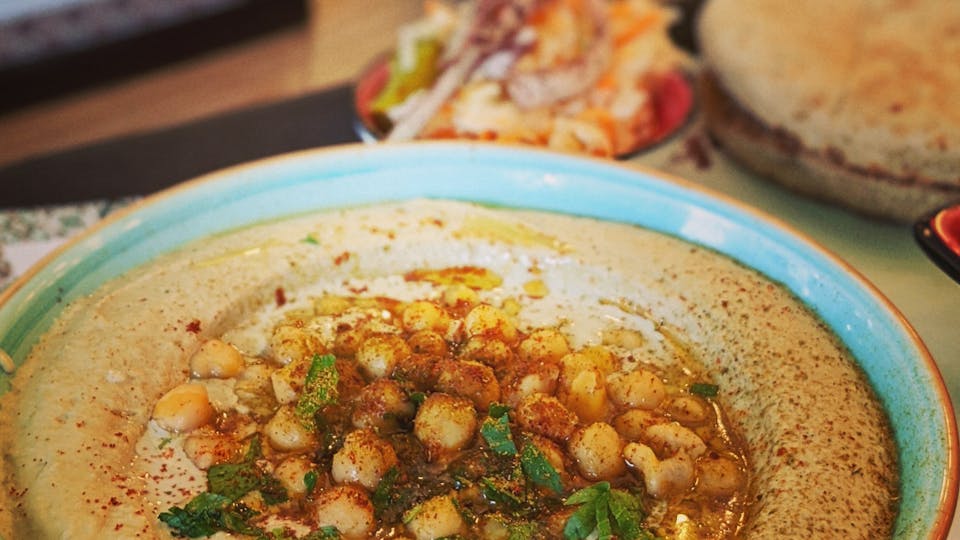 2. Shakshuka
A classic Israeli food for comfort, Shakshuka is devoured by hungry locals during breakfast or brunch. The hearty meal comprises tomato, poached eggs, onion, peppers, and garlic spiced with paprika and cumin. A light sprinkling of parsley tops off the perfect shakshuka, although some enthusiasts opt to add chili flakes as well. 
Although it sounds simple, the combination is remarkably flavorsome thanks to the exotic assortment of spices in play. It's ultra-filling, too—perfect for when you need loads of energy to get through a big day. 
Where To Try Shakshuka In Israel
Shakshuka is ubiquitous throughout Israel, so expect to find it on the menu of almost every local restaurant and market. Israeli breakfast chain Benedict does some of the best shakshuka around and has multiple Tel Aviv locations. In Jerusalem, you could try Tmol Shilshom, a charming 130-year-old residence converted into a bookstore-cum-café. 
The Best Shakshuka In Tel Aviv: Benedict, Ben Yehuda St 171, Tel Aviv-Yafo, +97236868657
The Best Shakshuka In Jerusalem: Tmol Shilshom, Yo'el Moshe Salomon St 5, Jerusalem, +97226232758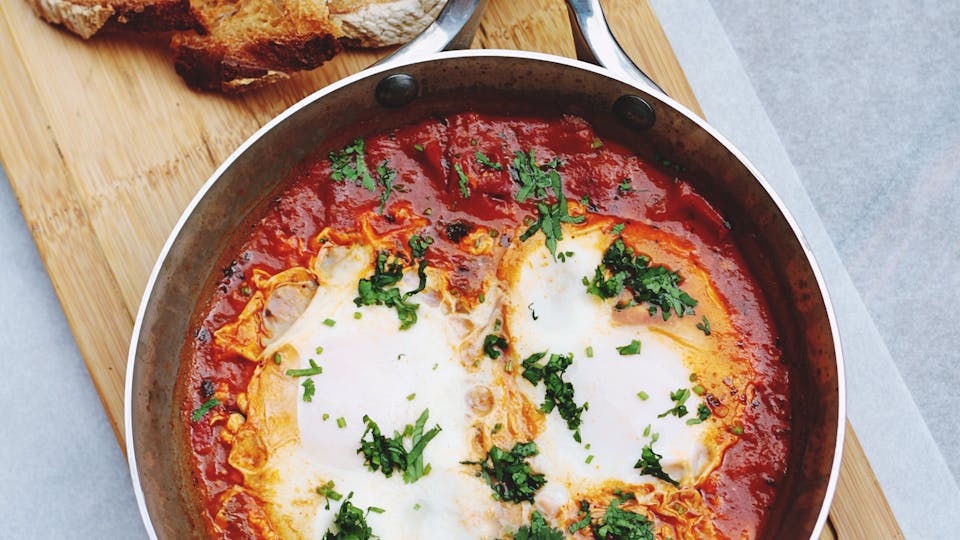 3. Falafel
A smash hit among vegetarians and vegans the world over, falafel is an Israeli superfood and a satiating alternative to meat. The dish consists of a deep-fried ball of chickpea, usually eaten with a selection of fresh veggies wrapped up in a piece of pita bread.
Falafel isn't always consumed kebab style as you can bite into the balls on their own or devour them with hummus or a salad. These yummy bite-sized morsels are probably the most popular fast food in the country because they're cheap, healthy, and quick to produce. 
Where To Try Falafel In Israel
Our favorite falafel joint in Tel Aviv is the ever-popular HaKosem. You may have to contend with long lines here at lunchtime, but don't worry because they'll feed you free falafel while you wait (it doesn't get any better than that). Moshiko Falafel does the delicacy best in Jerusalem, made fresh each morning and served in fluffy pita bread straight from the oven.
The Best Falafel In Tel Aviv: HaKosem, Shlomo HaMelekh St 1, Tel Aviv-Yafo, +97235252033
The Best Falafel In Jerusalem: Moshiko Falafel, Ben Yehuda St 5, Jerusalem, +97226222132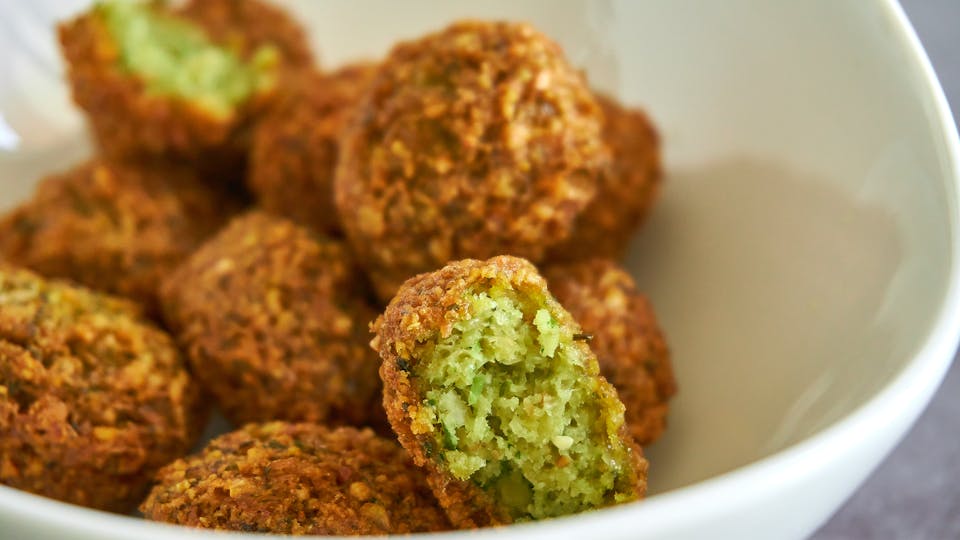 4. Shawarma
While many Middle Eastern states have their own take on shawarma, none do it as well as Israel. Packed full of succulent turkey, veal, or chicken, then smothered with hummus or a tangy tahini sauce, the Israeli variation is sure to tantalize the taste buds. 
Each shawarma comes with a generous serving of fresh vegetables—think tomatoes, cucumber, pickles, onion, and cabbage. And to wrap it up, the flavor explosion is held together by a freshly baked bit of pita or a laffa, a type of Israeli flatbread. 
Unlike shawarmas found elsewhere, the Israeli variety doesn't include any yogurt—that would violate an ancient Jewish religious practice that forbids eating meat and milk together. But don't worry. It tastes much better with tahini, anyway. 
Where to Try Shawarma:
From hole-in-the-wall takeaway haunts to fancy fine dining digs, there's no shawarma shortage in Israel. 
The best shawarma in Tel Aviv gets served at Yashka, a block from the Kikar Dizengoff plaza in the heart of the city (ask for the curry mango sauce to spice things up). The top spot to try the delicacy in Jerusalem is Mifgash Ha'esh, a stylish yet reasonably-priced place that's popular among local politicians and public servants. 
The Best Shawarma In Tel Aviv: Yashka, Israel, Dizengoff St 105, Tel Aviv-Yafo, +97235057632
The Best Shawarma In Jerusalem: Mifgash Ha'esh, Yirmiyahu St 23, Jerusalem +97225388888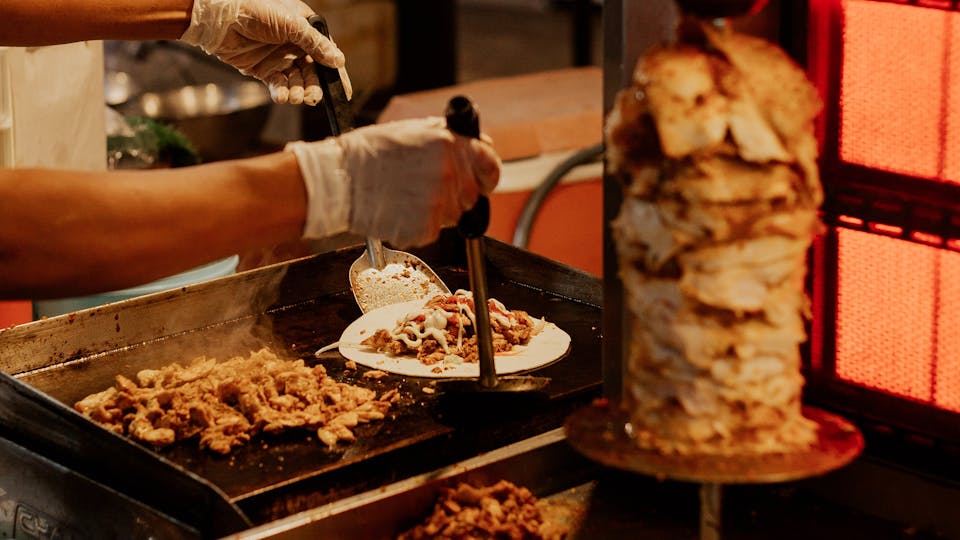 5. Israeli Salad
Israeli salad is perhaps the most common food in the country as it accompanies a wide range of traditional recipes. Aptly known as a chopped salad, the healthy side dish consists of diced tomato, onion, cucumbers, parsley, and bell peppers.
To add moisture and flavor, Israelis drizzle a dose of freshly squeezed lemon juice or olive oil (or both) over the top and then add either sumac or tahini. When consumed for breakfast, a portion of yogurt and the Za'atar herb is preferred. 
The ubiquitous food lies within many of the most famous Israeli dishes, including shawarma and falafel. It's uncommon to order Israeli salad as a main course in a restaurant, although you can usually find it on the menu as a side dish.
Where to Try Israeli Salad
Israeli kibbutz chefs take great pride in slicing and dicing their salad into the tiniest pieces possible—the smaller, the better. The Old Man and the Sea plates up the best Israeli Salad in Tel Aviv, plus a wide range of other leafy green concoctions to accompany their mains. In Jerusalem, head to the aforementioned Moshiko and ask for extra salad in your falafel. 
The Best Israeli Salad In Tel Aviv: The Old Man and the Sea, Nemal Yafo, Retzif HaAliya HaShniya St 101, יפו, I, +97235448820
The Best Israeli Salad In Jerusalem: Moshiko Falafel, Ben Yehuda St 5, Jerusalem, +97226222132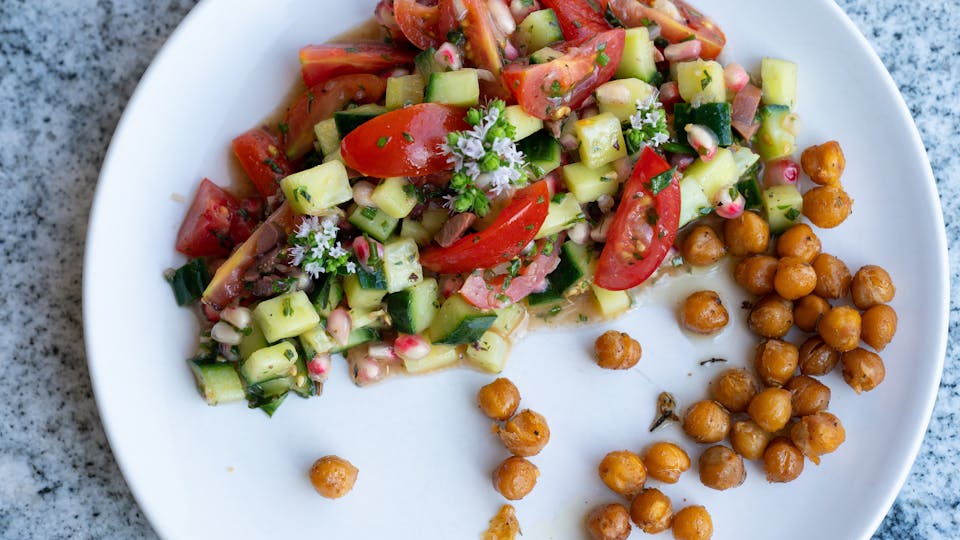 6. Jachnun
Although Jachnun originates in Yemen, the widespread immigration of Yemenite Jews into Israel has seen the delicious breakfast pastry become something of a local delicacy. And Israelis certainly aren't complaining because this puffy crepe-like delicacy goes down a treat in the morning. 
Jachnun is particularly popular on Shabbath (Saturdays)—locals start the slow-cook process the night before to comply with Jewish customs. Because Jewish tradition forbids lightning fires (or, in modern times, using electrical cooking devices) on Shabbat, the traditional day of rest, the Jewish people have come up with several sumptuous slow-cooking recipes to prepare food the night before. 
This dark amber-colored dough has a slightly sweet, caramelized taste, which complements its savory condiments. Although the exact recipe varies from place to place, Jachnun is often served alongside boiled eggs, tomato dip, and a spicy skhug sauce. 
Where To Try Jachnun
Traditionally, Jachnun is slow-cooked at home on Friday evening to be toasty warm for Shabbat. These days, many restaurants sell the delicacy, and you can even find a prepackaged variety in the supermarket freezer.
Hummus Kaspi does some of the tastiest Jachnun in all of Tel Aviv, served piping hot every day of the week—no need to wait around until Saturday to sample the dish. In Jerusalem, you can't go past the Jachnun Bar, which specializes in Saturday morning comfort food. 
The Best Jachnun In Tel Aviv: Hummus Kaspi, Aba Akhime'ir St 29, Tel Aviv-Yafo, +97236199981
The Best Jachnun In Jerusalem: Jachnun Bar, Hillel St 28, Jerusalem, +97225661919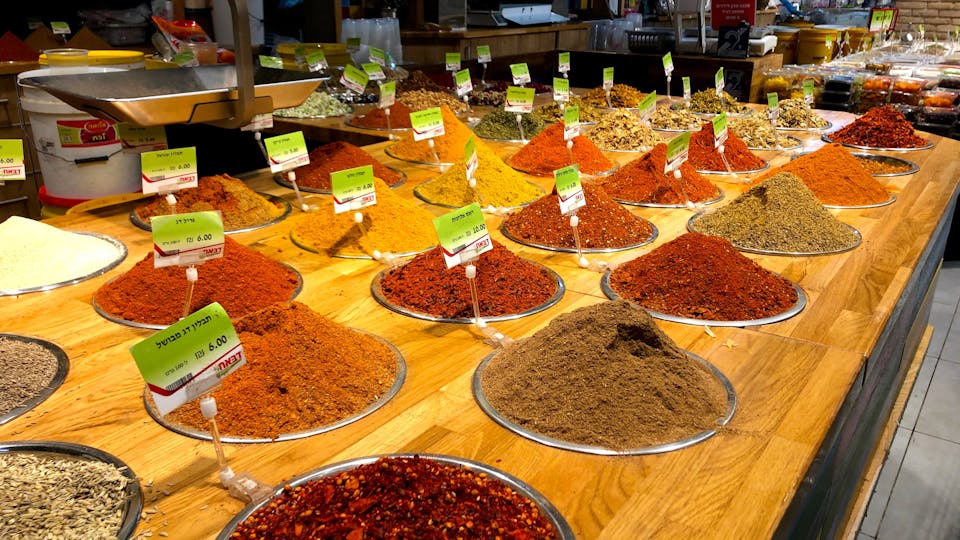 7. Malawach
Another precious Yemini treasure, Malawach is a delightful crepe-like pastry that's become a runaway success throughout Israel. Upon being deep-fried or baked, the dough goes down a treat when served with honey for dessert. Many Israelis, however, prefer a savory variation complete with tomato salsa, hard boiled eggs, and spicy skhug sauce (not unlike Jachnun).
Another mouth-watering rendition is the memulawach, which sees the pastry wrapped around a combo of savory ingredients like eggplants, pickles, fried onion, and hummus. Whichever way you devour it, malawach is bound to satisfy—and the best part is, unlike Jachnun, there's no waiting around until Saturday to get your greasy mitts on one. 
Where To Try Malawach
Saluf & Sons do a contemporary take on traditional Yemini cuisine and serve up the most memorable malawach in Tel Aviv. If you're in Jerusalem, head straight back to Jachnun Bar, which does both the best Malawach and Jachnun in town. 
The Best Malawach In Tel Aviv: Saluf & Sons, Nahalat Binyamin St 80, Tel Aviv-Yafo, +97235221344
The Best Malawach in Jerusalem: Jachnun Bar, Hillel St 28, Jerusalem, +97225661919
8. Knafeh
For the sweet tooth, few Middle Eastern desserts are as tempting as Knafeh. Although the cheesy, sugar-laden pastry has Arabic origins, it's become a household favorite from Cairo to the South Caucasus.
Shredded filo pastry or semolina dough is heated in butter before a thick coating of soft white goat's cheese gets slathered on top. Extra layers of pastry and sugar syrup are thrown into the mix; then, the dessert is garnished with a sprinkling of crushed pistachios. 
Although the combination seems a little odd to foreign tastes, Kanafeh has satisfied sugar cravings in the Middle East since the 13th century, so you know it's got to be good. 
Where To Try Knafeh:
If you're in Tel Aviv, Kanafanji is the obvious choice, a chic inner-city café dedicated exclusively to the divine dessert. Visitors to Jerusalem should head to Confectionery Jafar, a charming candy shop slightly south of the Damascus Gate in the Old City. 
The Best Knafeh In Tel Aviv: Kanafanji, Ma'on St 3, Tel Aviv-Yafo +972542285841
The Best Knafeh In Jerusalem: Confectionery Jafar, Beit HaBad St 40, Jerusalem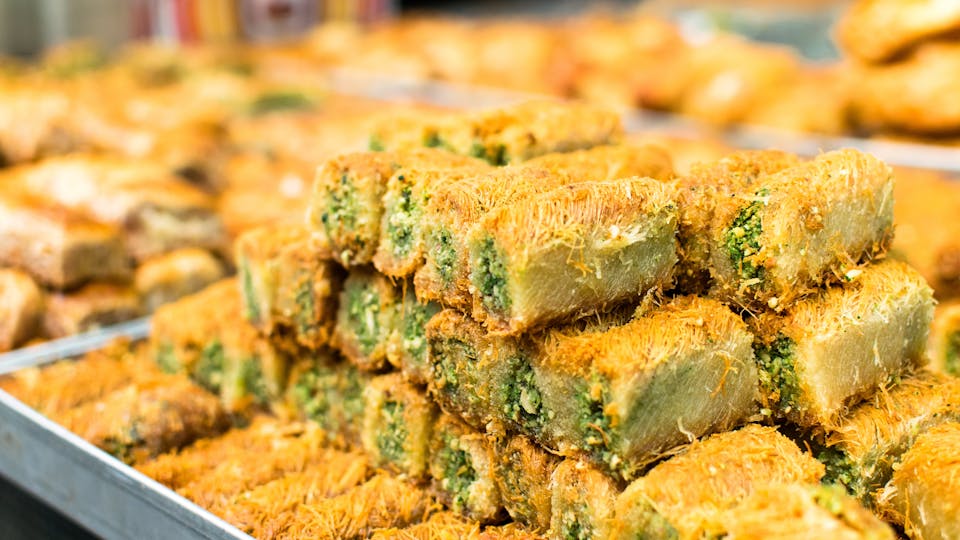 9. Sabich
If you've grown tired of snacking on shawarma and falafel, then it's high time you sampled a Sabich. Jewish Iraqi immigrants are responsible for bringing the delicious sandwich-like dish into Israel back in the 1940s, and its popularity has skyrocketed ever since. 
Within a freshly baked portion of crunchy pita bread, you'll find fried eggplant, hummus, tahini sauce, and hardboiled eggs. A sizable serving of Israeli salad is then stuffed inside to add sufficient vitamins and minerals to the mix. 
Grab a goat's cheese and feta variation should you fancy something a little different. Or, if you're not keen on carbs, ditch the pita entirely and opt for a breadless Sabich salad instead.
Although the recipe is based on a traditional Shabbat breakfast from Iraq, Israelis seem content to munch on Sabich any day of the week.
Where To Try Sabich
The centrally located Sabich Tchernichovsky does the best interpretation in Tel Aviv, although it's so popular you'll queue for a long while. In the Old City, Hasabichiya serves only one thing—and boy, do they do it well.
The Best Sabich In Tel Aviv: Sabich Tchernichovsky, Tchernikhovski St 2, Tel Aviv-Yafo, +972505306654
The Best Sabich In Jerusalem: Hasabichiya, Shamai St 9, Jerusalem, +972503688705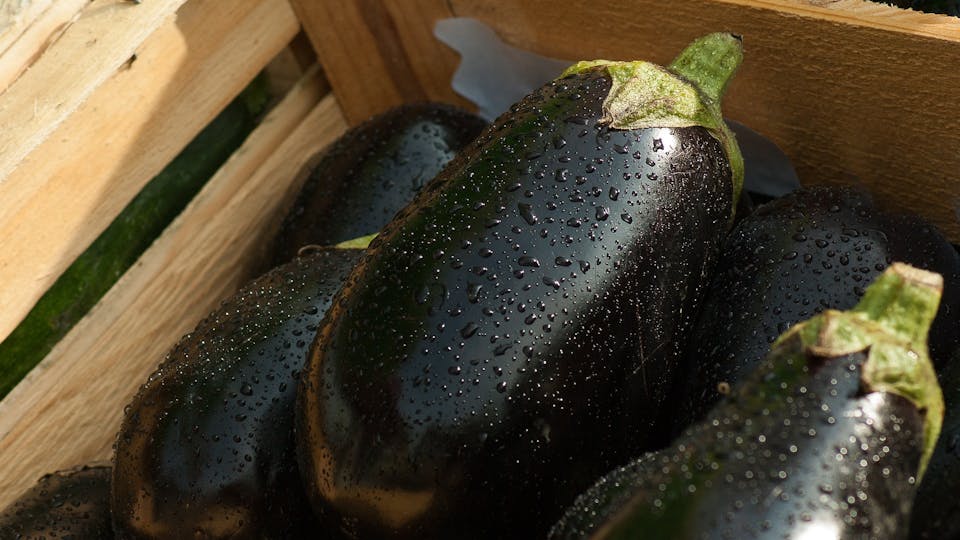 The Best Israeli Foods: Final Thoughts
Israeli Food mightn't be the first thing that springs to mind when you think of Israel. But that's not to say there isn't much depth to the country's cuisine. 
With exotic influences from all over the globe, Israeli gastronomy is worth savoring in-person at the source—and the only authentic way to do so is on a tour of the Promised Land. 
Sar-El Tours specializes in religious excursions to captivating biblical sites and all our trips include culinary exploration in the curriculum. Contact us today through the form below to enjoy an unforgettable tour of Israel while enjoying the very best of our mouth-watering cuisine.