Netanya - "Given By God"
Netanya means "God's Given" in the Hebrew language; meaning a gift from God Himself. And like its name, so is the engaging story of this special city which is home to one of our newest Sar-El Group hotels, David's Harp Netanya.
Netanya is a beautiful Mediterranean coastal city in central Israel, the capital of the surrounding Sharon plain, located about thirty Kilometres north of Tel Aviv. This modern bustling city was named after the successful Jewish American businessman, Nathan Straus, who was famous for his immense generosity to the young State of Israel during the early 20th Century when he invested heavily in projects benefiting both Jews and Arabs before the birth of the State of Israel in 1948.
With a population of nearly a quarter of a million residents today, the bustling city became a popular tourist resort and has risen to become the seventh largest city in Israel. Its humble beginnings go back to 1928 with the discovery of fresh water which brought in successive waves of settlers with the first ten homes constructed in 1929. The community continued to rapidly grow as tourism, industry, and agriculture developed side by side with special expertise in the diamond polishing business.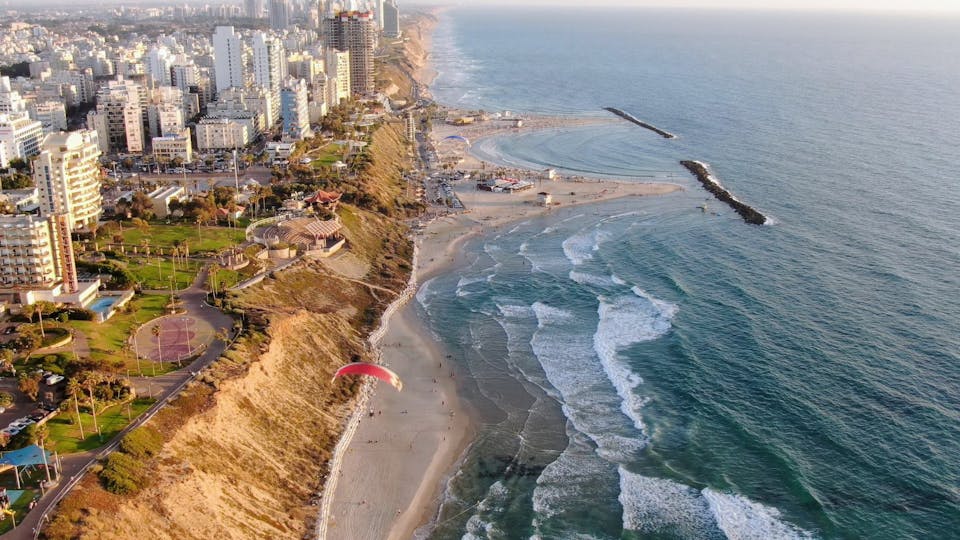 Netanya tasted the hostilities of the 1948-1949 War of Independence, and on December 3, 1948, it gained the status of the first city to be designated in the newly established State of Israel with a population of 11,600 residents. With ongoing waves of Jewish immigration continuing to arrive from the four corners of the earth, Netanya expanded fast and continued growing in spite of the fact that it was struck by Jordanian artillery and bombed by a Jordanian warplane during the 1967 Six-Day War.
With new hotels developing along the coast, Netanya continued to rise during the 70's and 80's of the previous century as a tourist destination. Ongoing immigration waves helped boost her economy and enrich her social and cultural life as newcomers kept arriving from Europe, the Americas, Africa, and Asia. Today, about  50% of Netanya's residents would be considered secular Jews, and the other half traditional or orthodox.
With 19 hotels totaling nearly 1,500 hotel rooms, Netanya's long coastline and beautiful white beaches have created a year-round holiday and resort industry, which in turn supports numerous specialty restaurants, shopping malls, and a dynamic social and cultural scene. In addition, Netanya is home to the beautiful Poleg Nature Reserve and to the Irises Dora Rainpool Nature Park which contains the world's largest population of iris atropurpurea, the Coastal Iris which name in Hebrew, "Iris Ha'Ar'gaman," means the "Purple Iris."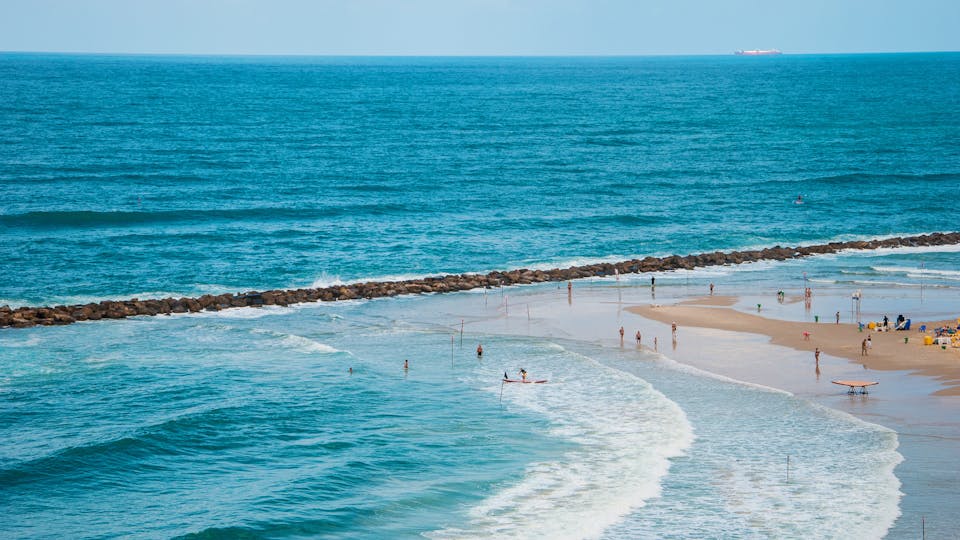 Famous for its athletics and sports culture, Netanya hosts the original "Krav Maga" hand-to-hand combat academy and is the home of the Israeli paragliding community with thousands of fans gliding along the coastal cliffs which are famous for their offshore breeze which provides ideal conditions for paragliding. The nearby Wingate Institute is a hub for national and professional sports teams while providing training for many of Israel's IDF's special forces units. In 2018 Netanya hosted the World Lacrosse Championship tournament and in 2021 the FINA Junior Water Polo World Championships.
Several of the tallest buildings in Israel are already located in Netanya, with dozens of 40+ floors of skyscrapers being planned, mostly along the charming shoreline. Netanya's development master plan for 2035 will greatly increase residential and office spaces, create a new marina and piers, and prepare the city's infrastructure to support a dynamic population of 320,000.
Contact us today to add this fascinating city to your itinerary!